Book waterpark admission, and enjoy over 28 rides and slides.
Due to the MOPH restrictions, Desert Falls Water & Adventure Park will be closed from 26th of March until further notice. We cannot wait to welcome you again.
General Information
Opening Hours
Open daily from 10am to 7pm
What to Bring
Bring sunscreen, towels and water bottle. These are also available for purchase if you forget at Sea Caves Souk. Our retail shops offer swimwear, towels, toys, souvenirs and much more!
Parking
Complimentary self-parking
Rules & Regulations
All guests must adhere to the waterpark rules and regulations and follow instructions given by lifeguards and the waterpark team.
Tickets cannot be exchanged, refunded, transferred or resold, and are considered void if damaged.
Children below age 13 must be accompanied by an adult over the age of 18 years.
All guests, bags and property are subject to screening and security checks upon entry.
Food and beverage items brought in from outside sources (not including plastic bottles of water, baby food, dietary or medicinal needs) are not permitted.
No glass or sharp objects are permitted.
Appropriate swimwear (nylon and lycra materials only) must be worn whilst using the pools and slides. Inappropriate garments (i.e. underwear, transparent, exposing or non-swimming attire) is not permitted. Guests may be asked to change into appropriate swimwear attire.
Diving, running, jumping, horseplay and unruly behaviour or language is not permitted.
Only lifejackets issued and provided by the park are permitted in the pools.
Personal floatation devices are not permitted.
Guests must meet the height, weight and health conditions indicated on all the rides.
Toddlers entering the water must wear waterproof diapers.
There are inherent risks in participating in slides and attractions. You are the best judge of your limitations. If unsure about a ride, please speak to a team member.
For safety reasons, pregnant women and persons with heart conditions and back problems should not ride the slides.
Guests with disabilities and/or special needs must be supervised by a parent, guardian or caretaker.
Smoking is strictly prohibited including the use of e-cigarettes (except in designated smoking areas).
Alcohol is strictly prohibited in the park.
By entering the waterpark, guests agree to be photographed, filmed or recorded for any reason, without personal permission, payment or any other considerations.
We reserve the right to view any recorded images by guests and delete footage if deemed inappropriate.
The entire park area is under CCTV surveillance.
The waterpark is not responsible for any loss, damage or theft. Lockers are available.
The management reserves the right to deny access, or remove any person from the park for any reasons mentioned above, or for non-compliance with legal or government requirements of the State of Qatar.
Food & Beverage
Our endless dining options will ensure you won't go hungry.
 Please don't bring food and drink from outside, other than a sealed bottle of water (up to 500ml).
Telal Café (10am – Park Closure)
Our family dining restaurant, serving burgers, hotdogs to salads and kids meals.
Main Street Kiosk (9:30am – Park Closure)
Serving an assortment of Coffees, teas and a variety of snacks.
Wave Pool Kiosk (10am – Park Closure)
Grab a freshly cut fruit, smoothie or juice ice creams and snacks
FAQ
About Desert Falls Water and Adventure Park
Desert Falls Water and Adventure Park is one of the largest theme parks in the Middle East. Located within Hilton Salwa Beach Resort & Villas, Desert Falls Water and Adventure Park features 18 attractions and 56 rides and slides, including the water park's signature ride "The King Cobra". As of December 30, Desert Falls will be open for a special preview of selected rides and attractions including the Kids Ship Pool, the Whizzard Mat Racer, inner tube slides, Dahab Mountain, Surfing Dunes, Family Abyss, Falls Pool and the Wave Pool. An in-house laser tag adventure will also be available at extra charge.
When will it open? And what time?
Desert Falls will be open daily from 10am to 7pm, starting December 30th.
How much is the ticket price?
Ticket prices vary. Please check booking engine for rates and availability or  call us at +974 4423 6666 for inquiries.
Where can I buy the tickets?
Tickets will be exclusively sold for a limited time from a kiosk in Doha's "Hotel Park", next to the corniche, starting 27th December 2020. Visitors can purchase their tickets from the Hotel Park Doha kiosk any time between 1pm and 8pm on weekdays and 10am to 8pm on weekends.
What does it include?
Access to the waterpark and the rides. Ship Kids Pool, King Cobra, Whizzard Mat Racer, Inner tube Slides, Dahab Mountain, Surf Dunes, Family Abyss, Falls Pool, Wave Pool. The attractions and rides availability may change from time to time.
What will be the prices after the special preview period?
After 15th February prices will vary from time to time on a seasonal basis. The main price will be QAR 295 and QAR 215 for visitors under 1.2 meters in height.
Are there any special packages, memberships or group prices?
Not during the special preview period, however more special packages will become available after 15th February.
Will there be a ladies' only day?
Not during the special preview period.
Is the laser tag game included in the ticket price?
No, it will be for an extra 60 QAR per person
Is there a minimum age to enter the laser tag?
Minimum height is 1.2 meters.
Is the water park safe for children, and in the situation of coronavirus?
Yes. We follow strict Qatar government guidelines.
Is medical assistance available?
We have trained medical staff on site.
Are the pools in the water park heated?
The water is heated throughout the park. The water temperature varies according to the uniqueness of each ride and the weather conditions.
Is the water park indoor or outdoor?
The water park is an outdoor environment, however, some parts of the water park are under an artificial cave like environment.
Are towels available in the water park?
Towels can be rented in the water park for a daily price of QR 25.
Are locker facilities available in the water park?
Yes. Lockers are available.
How can I get there?
Through google maps or waze search for Desert Falls water & Adventure park, or drive all along Salwa Road, towards Bu Samra, exit 84.
What are the dining options?
We currently have one restaurant open in the waterpark, "Telal Café". Additional dining options will be opening soon.
Is outside food allowed inside the water park.
No, however great dining options are available at Telal Café.
Is there a shop at the water park?
Yes. Sea Caves Souk is open during park hours, and offers a range of swimming, sports and convenience items.
Is parking free?
Yes.
Do visitors have access to the resort?
At the moment the beaches and resort facilities are for the resident guests only, though a ticket for the beach and pool facilities will become available when the hotel opens to the public in the near future. However, it is possible to make a booking for our Italian restaurant Dante at the hotel, which is open from 7pm till 11pm Thursday to Tuesday.
Is there a special dress code?
Proper swim wear is required for all guests.
Can we go to the park any day or do we need to specify a date?
When purchasing the tickets, you will have to specify the day you would like to visit the water park.
For laser tag, how long is the game?
The laser game duration is 12 minutes.
How can I change the dates for my water park tickets?
You can get the dates at our kiosk at Hotel Park.
What does Telal café offer?
Telal café offers burgers, hotdogs, salads and much more.
Is the water park safe for kids?
The park is designed to deliver the safest experience for our guests. Our team alongside our lifeguards are on site at every attraction during the opening hours of the water park.
Sea Caves Water Park
Open Daily from 10am to 7pm
Water park admission is included with your stay at Salwa Beach Resort. Ride availability is subject to change.
Desert Falls Adventures (Available at an Additional Cost)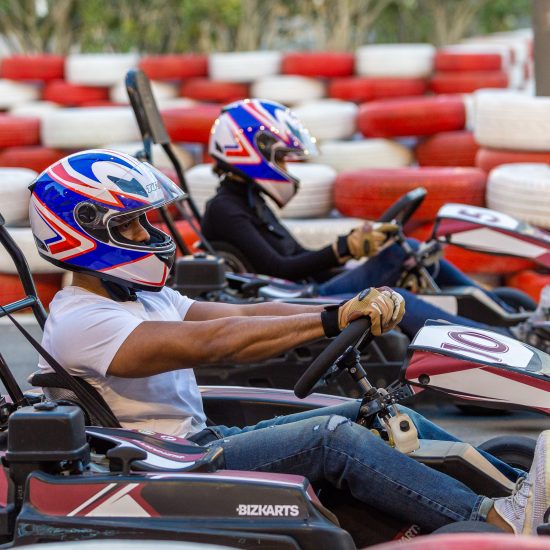 Desert Street Circuit – Go Kart
Open Daily from 10am – 7:45PM
Go-Kart racing provides a fun and adrenaline-fueled experience, where you can put your racing skills to the test with friends and family. Our city themed track adds to the excitement at every turn.
Minimum Height (Family/Junior Kart): 1.35m
Minimum Height (Adult Kart): 1.5m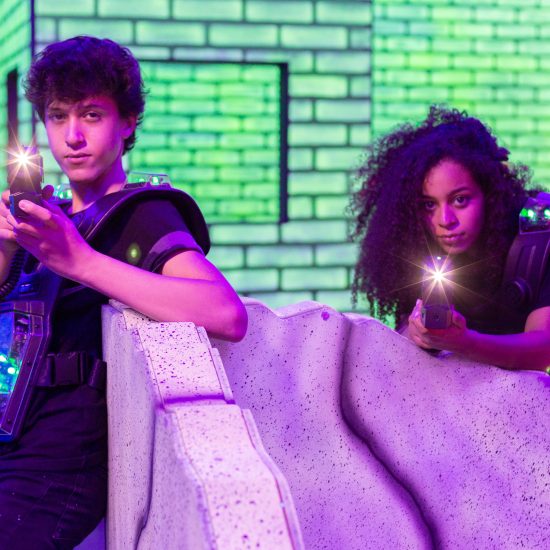 Nimr Laser Tag (Temporarily closed due to MOPH COVID-19 mandate)
Nimr Laser Tag is a strategic & innovative game zone which encourages you to work as a team. It's the perfect adrenaline-pumping activity for families, groups & friends.
Minimum Height: 1.2m
Coming Soon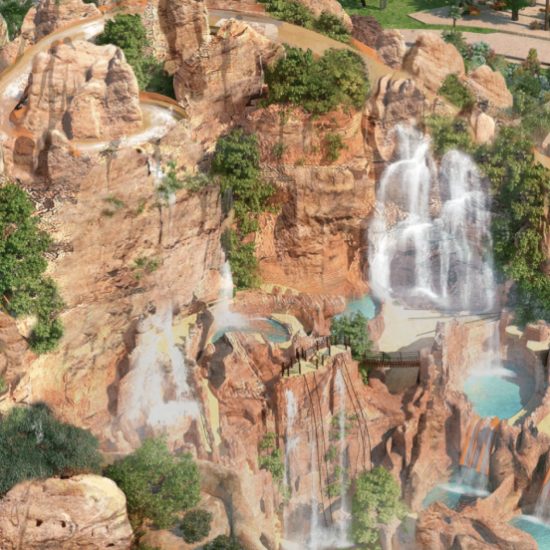 Desert Falls Canyoning
Desert Falls Canyoning is a high-thrill adventure activity combining rock climbing and water activities. Our Canyoning adventure offers the most thrilling and unique experience in the Middle East.
Minimum Height (Family): 1.2m accompanied by an Adult
Minimum Height (Extreme): 1.5m Alone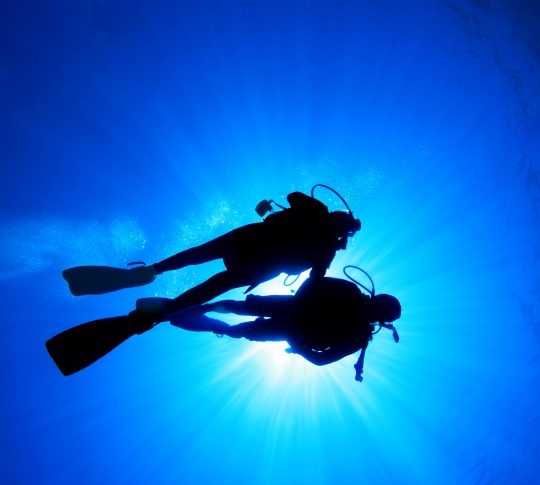 Oasis Marine World Diving Experience
At Oasis Marine World you can experience snorkeling or scuba diving through our treasure and ruins pool. Enjoy treasure hunting adventures and leisurely dives through a shipwreck with unique adventures for all ages and skill levels.
Minimum Height: Please visit Diving reception for Information